Why is CO2 monitoring important in schools?
Carbon Dioxide monitoring is always important to understand air quality. Without ventilation and with large numbers of people in the same room there will be a build up of exhaled CO2. High CO2 levels can cause among other symptoms tiredness, headaches, loss of concentration and nausea. Not ideal in an educational setting. There is also an increased risk of transmission of airborne viruses such as covid 19.
In schools this means staff can identify when ventilation is required. This means that windows and doors do not need to be open unnecessarily or ventilation can be activated automatically.
A quick overview of monitors discussed
Most popular monitor for schools
The CO2MC is the most popular CO2 monitor in schools for a number of reasons. Most notably it has a range of models specifically suited for specific applications (general, food tech or laboratory classrooms).
The CO2MC R or Room is set to values inline with the BB101 guidance that recommends levels under 1500ppm (parts per million) with a controllable source (windows, doors or ventilation) to get below 1000ppm. For this reason the onboard relay makes a connection at over 1400ppm to activate connected ventilation.
CO2MC features:
Traffic light display allows easy to read visual display of monitor Green up to 999ppm / Amber at 1000-1499ppm / Red at over 1500ppm
Custom levels if required and can be changed with a CO2MC remote
Available in 230V and 24V and AC plug can be wired to units for additional cost. Although hardwiring is recommended to avoid crafty kids removing power!
Specific versions are available for food technology CO2MC K (Kitchens) and laboratories CO2MC L (Lab) which both break connections in alarm to shut off gas supply.
Most cost effective and adaptable Dual powered USB-C or 230V monitor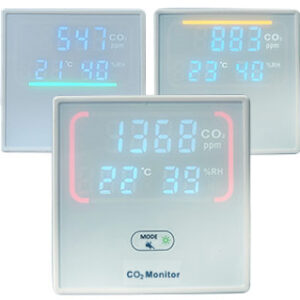 The Calmo is by far the most cost effective CO2 monitor but still boasts a range of features. It uses the SenseAir S8 so you can have peace of mind this is a highly accurate sensor. The monitor is dual powered and you can select between using a USB-C cable or using 230V terminal connections.
It's simple look has made it a go to CO2 monitor for many applications including classrooms and even within homes.
Compliant with LVD and Scottish Technical Handbook Domestic Environment 3.14.2 and Building Regulations 2010 – Ventilation Part F
Calmo features:
Traffic light display allows easy to read visual display of monitor and customisable setpoints to suit your needs
Dual powered 230V or USB-C
Compliant with standards for classrooms
For quick installation, features and reporting
It's no secret the recently released Aranet4 has been a hugely successful worldwide and adaptable sensor.
This is due in part to the quality and accuracy of the top of the line Senseair Sunrise NDIR sensor. An all in one CO2, temperature, RH and atmospheric pressure monitor.
With two versions available dependant on your needs the Aranet4 Home can be used as a portable sensor or when a smaller number of sensors are required. For larger scale networking there's the Aranet4 Pro cloud based solution. To find out more and compare the Aranet4 range see Aranet4 HOME vs Pro
Aranet4 features:
Battery powered with quick installation and lower power E-ink display
Bluetooth and app connectivity for data reporting, custom levels
Cloud based networked solution with Aranet PRO and up to 100 sensors with Base station 
Specifically designed with schools in mind
Design and features of the tSENSE EFA was conducted with schools in mind. EFA stands for Education Funding Agency
CO2, temperature and humidity monitoring and Pre-set levels recommended by BB101 average guidelines for schools. The touch screen display allows simple interface for users to interact with along with data visualisation.
tSENSE EFA features:
Analogue Output
BMS control
24 Only
Visual display of CO2 levels
Custom CO2 levels during installation
Most advanced monitor for complete control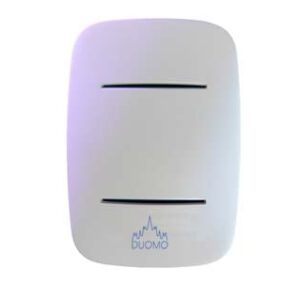 Need even more control? The ExploraCO2 solution is a battery powered sensor with a huge range of advanced features.
You probably noticed the ExploraCO2 has no display. The sensor transmits the data for viewing on an online dashboard with user permissions, data reporting, email alerts and LORA connectivity.
ExploraCO2 features:
Online Dashboards at no extra cost
Design your own interface with an open API
Custom logo available
Advanced datalogging and reporting
LoRaWAN connectivity
Email alerts and notification options
Modbus monitor for use with BMS
The TLD1 is a Carbon Dioxide and Temp monitor with Modbus
A 3-colour LED screen gives real time visual indication of CO2 levels as well as analogue outputs for both CO2 and temperature. Wall mountable and widely used with Building Management Systems (BMS). Another option with similar features is the tSense D
TLD1 features:
Modbus data transmission
Analogue Output
Widely used with BMS
24V only
Visual display of CO2 levels
Custom CO2 levels during installation