Introducing the Calmo – USB Air Quality Monitor.
This NDIR CO2, Temperature, and Humidity Monitor revolutionises air quality monitoring with its comprehensive data, customisable alarm levels and user-friendly interface. With 8-hour and 24-hour peak and average readings, traffic light display, and buzzer alerts, you can confidently manage and optimise your indoor environment.
Choose between 230V or USB C power options for seamless integration into your existing setup. Experience enhanced air quality monitoring and make informed decisions for a healthier, more comfortable space with our advanced NDIR CO2, Temperature, and Humidity Monitor. The Calmo can be powered with either 230V or USB C power.
Meets the requirements for:
LVD and

Scottish Technical Handbook Domestic Environment 3.14.2 
We proudly present our advanced Calmo – USB CO2 Monitor, an NDIR CO2, Temperature, and Humidity Monitor. This cutting-edge device offers comprehensive air quality data and an array of useful features, ensuring a healthy and comfortable indoor environment. Whether it's for your home, office, or classroom, our monitor provides real-time insights and customizable alerts to keep air quality in check.
Going beyond basic monitoring capabilities, Calmo USB CO2 Monitor accurately measures CO2 levels, temperature, and humidity. Providing you with a complete picture of the air quality within your space. This valuable data empowers you to take proactive measures to optimise comfort and promote well-being.
Taking air quality analysis to the next level, our Calmo monitor provides 8-hour, 24-hour average and peak readings. This feature enables you to identify trends, understand variations, and make informed decisions about your indoor environment. With this valuable information readily available, you can create strategies for optimal air quality management.
For simplified data interpretation, our monitor incorporates a user-friendly traffic light display. The intuitive color-coded system instantly communicates air quality levels, allowing for quick assessment even from a distance. Additionally, an integrated buzzer actively alerts you when alarm levels are reached, ensuring you never miss critical changes in air quality.
The versatility of our monitor extends to its power options, allowing you to choose between USB-C or 230VAC Hardwired power. This flexibility makes it compatible with a wide range of setups and facilitates easy installation in any environment.
Features
Product Details
Designed to meet LVD and Scottish Technical Handbook Domestic Environment 3.14.2
Hard Wired or USB-C versions
Standardised to fit 35mm deep flush back box
LED Colour Display
Real time CO2, Temperature and Humidity value
8 hour average, 24 average and 24 hour peak value
Support
Onsite Diagnostics
If you require onsite diagnostics or technical assistance with any of our products please contact us
Service
We recommend Duomo Gas Detection products are serviced at least annually to ensure efficacy and extend sensor life. Our qualified team of engineers are available Nationwide.
Service
Datasheets
Calmo Datasheet

876.89 KB | pdf

Download
How long does the Calmo last?
The Calmo NDIR sensor can last up to 15 years when placed in suitable environment.
What is the guarantee on the Calmo?
The Calmo has a one year manufacturer guarantee as standard.
Can I change the CO2 alarm levels on the Calmo?
Yes the setpoints can be easily changed. The options are:
Green to Yellow: 600 / 700 / 800 / 900 (ppm)
Yellow to Red: +200 / +300 / +400 / +500 (ppm)
Is the Calmo compliant with Scottish regulations?
The Calmo has been designed to meet LVD and Scottish Technical Handbook Domestic Environment 3.14.2
How do I change the screen brightness on the Calmo?
There are 3 brightness levels on the Calmo. Hold the MODE/MUTE button to access the brightness settings and then tap the button to select the preferred level.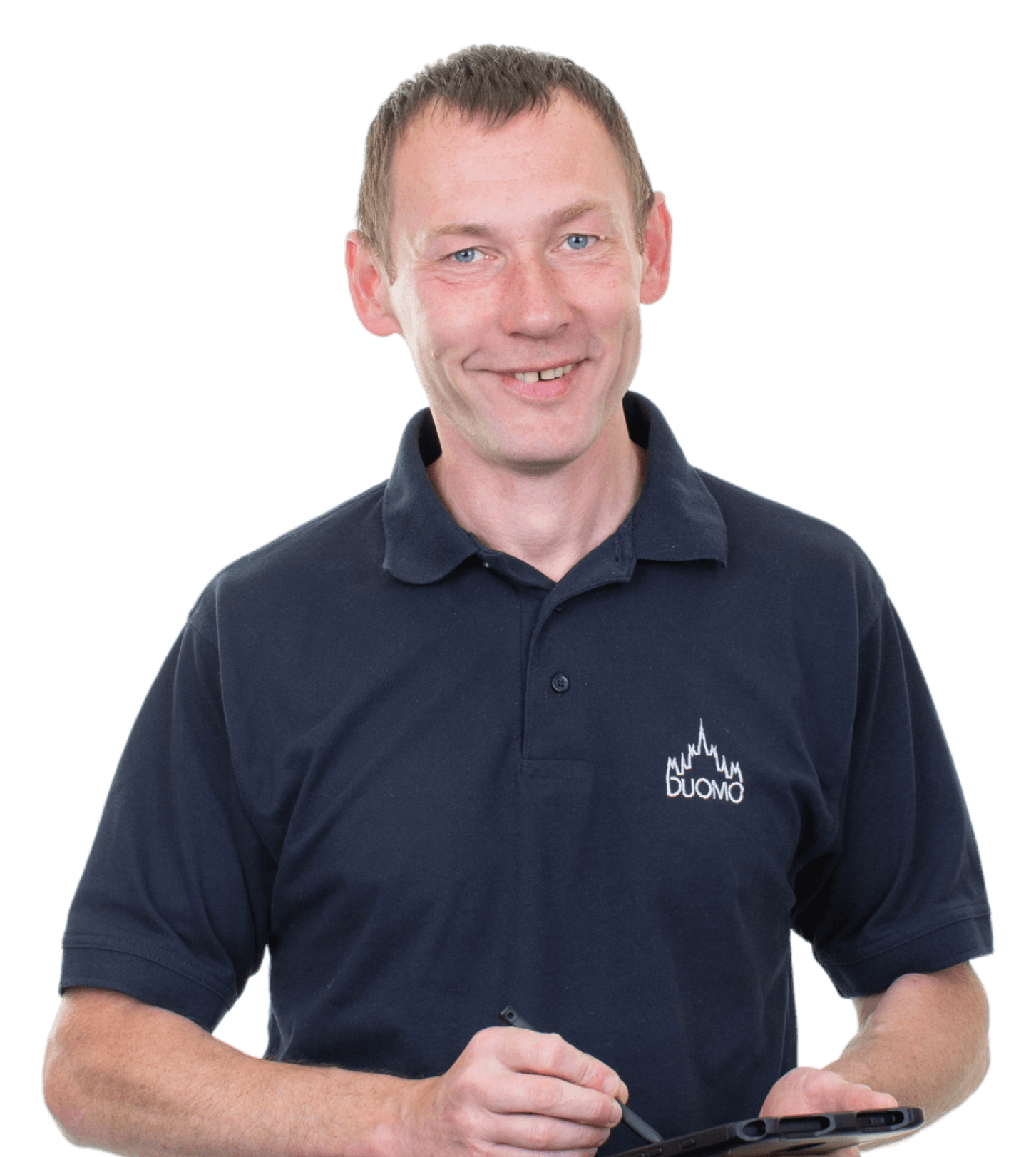 If you require technical assistance or an annual service on this product please contact us and we will be happy to help. Our qualified team of engineers are available Nationwide.