Cellair – Pub Cellar CO2 Remote Display Monitor
The Duomo Cellair is a Carbon Dioxide alarm unit for use in Pub Cellars. It monitors levels of Carbon Dioxide and when levels exceed alarm thresholds the alarm sounds and provides a 230V output to either an extractor fan or a gas isolating valve.
Plug and play unit can be setup within 5 minutes. Remote Display Unit included and up to 3 RDUs can be connected if required.
For more information on the CellAir along with its benefits check out our article Safeguarding the Pub Experience with CO2 monitoring.
Quantity discount
Quantity
1-4
5-9
10-19
20+
Price

£

297.59

£

282.71

£

267.83

£

252.95
You may be interested in...
Introducing the Duomo CellAir: A Carbon Dioxide alarm unit for Pub Cellars
Here at Duomo, we stand proud of our top-of-the-line Carbon Dioxide alarm unit – the Duomo CellAir. With the unique needs of Pub Cellars in mind, this CellAir serves our commitment to providing industry professionals reliable solutions. Equipped with advanced features and reliable functionality, the CellAir ensures a safe environment by continuously monitoring the levels of Carbon Dioxide. In doing so, it provides industry professionals with the peace of mind they need to focus on their work. Whether it's keeping patrons safe or ensuring efficient and effective cellar management, the Duomo CellAir is here to deliver reliable and consistent results.
And with our unwavering commitment to innovation and excellence, we're excited to continue building solutions that address the safety and efficiency needs of our valued customers – both now and for many years to come.
Effortless Plug and Play Installation
The CellAir unit is effortless to set up and can be installed within 5 minutes. Thanks to its user-friendly design, you can quickly and easily integrate it into your existing cellar system without any additional installation costs.
Remote Display Unit for Enhanced Flexibility
The CellAir unit conveniently includes a Remote Display Unit (RDU) that you can place in any desired location. Furthermore, if needed, you have the flexibility and convenience of connecting up to 3 RDUs, allowing you to monitor CO2 levels from multiple points.
Accurate Measurement with NDIR Sensor
Equipped with a highly reliable NDIR (Non-Dispersive Infrared) sensor, the CellAir ensures accurate measurement of CO2 levels. It can measure up to 50,000ppm, allowing for precise monitoring in various cellar environments.
Clear and Informative LCD Display
With its large LCD display, the CellAir unit effortlessly provides clear and easy-to-read indications of ambient CO2 concentration and temperature. Consequently, this enables users to swiftly and efficiently assess the air quality within the cellar.
Reliable Alarm System
When Carbon Dioxide levels exceed the configured alarm thresholds, the CellAir unit immediately activates both audible and visual alarm indications. Alerting you to the potential hazard. It also provides a 230V output to either an extractor fan or a gas isolating valve, ensuring timely response to maintain cellar safety.
IP54 Waterproof Protection
The CellAir unit is built to withstand challenging cellar conditions and is protected by an IP54 waterproof rating. This ensures its durability and reliability even in damp or humid environments.
With its exceptional features, easy installation, and reliable performance, the Duomo CellAir is the ideal choice for monitoring CO2 levels in Pub Cellars. Take control of your cellar's safety with the trust and reliability of Duomo.
Features
Product Details
Plug in installation - No installation costs!
NDIR (Non-Dispersive Infrared) sensor
Measures up to 50,000ppm
Up to 3 remote display units (RDUs) - 1 Included as standard
Large LCD display indicates ambient
CO2 concentration and temperature
Relay output
Audible and visual alarm indications
IP54 water proof protection
Support
Onsite Diagnostics
If you require onsite diagnostics or technical assistance with any of our products please contact us
Service
We recommend Duomo Gas Detection products are serviced at least annually to ensure efficacy and extend sensor life. Our qualified team of engineers are available Nationwide.
Service
Datasheets
Cellair – Pub Cellar CO2 Remote Display Monitor

950.79 KB | pdf

Download
Where should I install the CellAir?
Choose a suitable location to install the SEU. Fix the panel holder on the wall at the recommended height of about 0.45m (1.5 feet) from the floor and as close to the manifolds and valves as possible.
For more advice on where and how to install this unit please contact Duomo (UK) Ltd. on 01905 797989.
Where should I install the RDU?
The RDU (Remote Display Unit) should be placed outside the room which is being monitored. This unit is connected to the CellAir by the communication cable provided.
It should be placed where it can be conveniently seen before entering the room where the CellAir is located. The RDU is a repeater and displays the measurements made by the CellAir on an LCD. The RDU can be placed a maximum of 24 metres (78.7 feet) away from the CellAir. The RDU also has the "DIAG" function to test the comms between the CellAir and the RDU.
I have an error on the CellAir, what does it mean?
Please see the Datasheet tab above to see in depth fault codes & troubleshooting guide.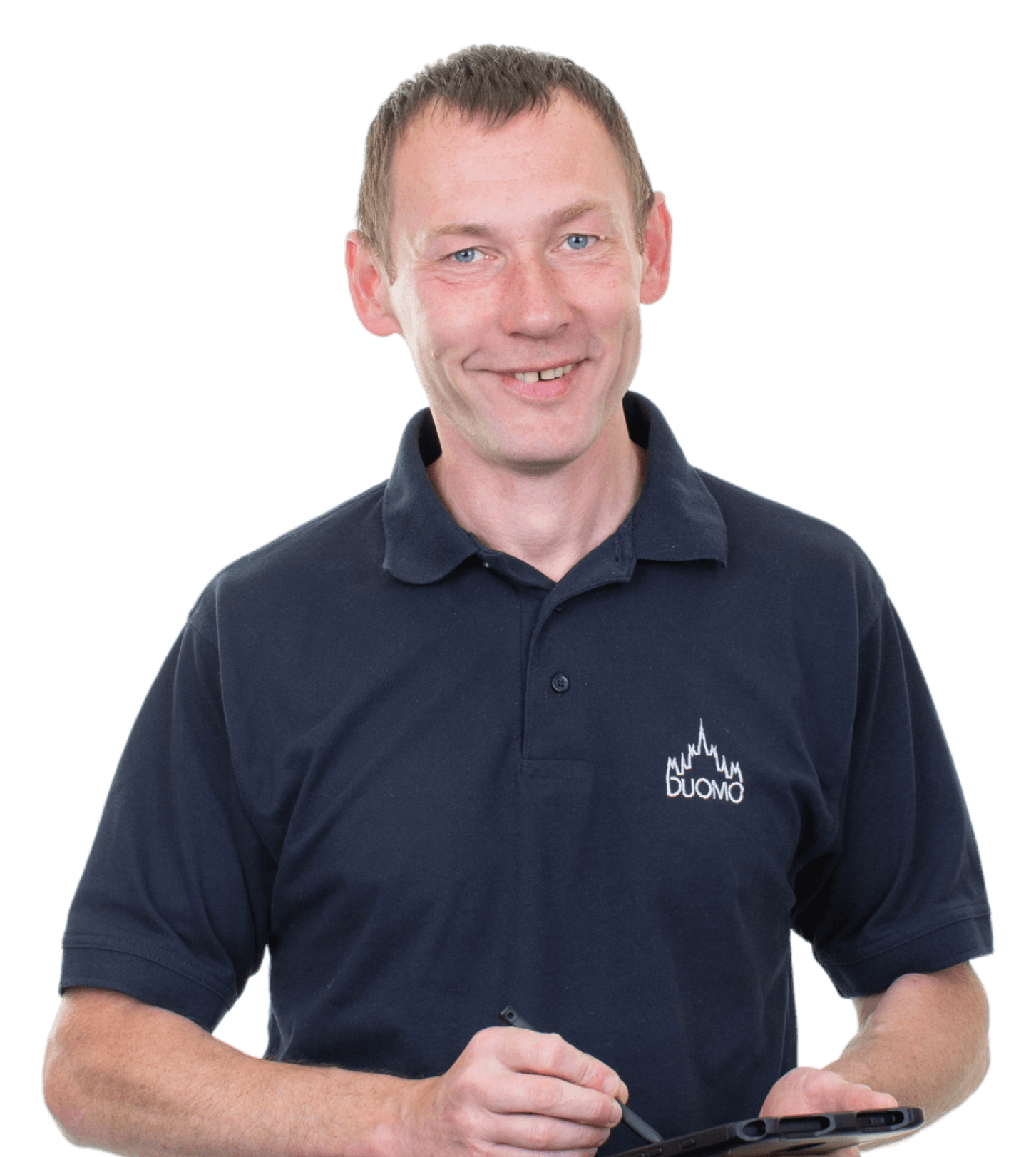 If you require technical assistance or an annual service on this product please contact us and we will be happy to help. Our qualified team of engineers are available Nationwide.