CO2MC 230V & Free Remote – CO2, Temp & RH Monitor
The Duomo CO2MC has been developed to monitor levels of Carbon Dioxide in offices, schools, kitchens or labs. This is the 230V version, also available in 24V. The monitor has a backlit traffic light display and relay output. As CO2 levels increase the backlight will change from green to Yellow. If the levels continue to rise the backlight will change to red. This accurate NDIR sensor with a permanent power source and is compliant with Building Regulations Document F Vol 2 CO2 & Ventilation.
FREE CO2MC Remote with every order while stocks last
Quantity discount
Quantity
1-4
5-9
10-14
15+
Price

£

185.00

£

157.25

£

138.75

£

126.75
The CO2MC 230V Monitor & Controller actively monitors the levels of CO2, temperature, and humidity in a room.
There are four model options available:
The CO2MC 230V Monitor & Controller actively monitors CO2 levels, temperature, and humidity in a room.
There are four CO2MC model options to choose from:
CO2MC-R: Designed for monitoring room environments.
CO2MC-K: Specifically built for kitchens.
CO2MC-L: Ideal for laboratory settings.
Custom setpoints option: Tailored to specific requirements.
Key features of this monitor include an audible alarm and a backlit traffic light display. It also provides an on/off volt-free relay output that controls ventilation systems.
You have the option to customize or pre-set the monitor for standard use cases such as kitchens, school classrooms, and laboratories.
You, as the user, can determine when ventilation is needed, granting you control over the process. This proves especially useful in scenarios where automatic ventilation systems are absent or when occupants prefer manual control.
The monitor adjusts display colors based on setpoints determined by the location. For example, classrooms or kitchens may have different setpoints for color changes, indicating the need for additional ventilation.
For CO2 and temperature analogue output of 0-10V, consider the TLD1 model. The CO2MC 230V Monitor & Controller features a three-color (green/yellow/red) LCD backlight that indicates ventilation requirements based on CO2 measurements.
The monitor uses non-dispersive infrared sensing technology for accurate CO2 detection. It offers a relay output to control a ventilator. The digital display shows CO2 levels in parts per million (ppm), as well as temperature and humidity readings.
When necessary, the monitor alerts users with dual alarm indications: an audible alarm and a color switch on the backlight.
We designed the monitor for easy operation and equipped it with user-friendly touch buttons. You can place it on a desktop or mount it on a wall to suit your preference.
With a 3-year guarantee, the CO2MC 230V Monitor & Controller ensures long-term reliability and performance.
Features
Product Details
Three colour (green/yellow/red) LCD backlight indicating ventilation requirement based on CO2 measurement
Non dispersive infrared sensing technology
Relay output to control a ventilator
Digital display of carbon dioxide levels (ppm)
Temperature and humidity monitoring
Dual alarm indication; audible alarm and backlight colour switch
Easy touch button for operation
Desktop or wall mounted
3 year guarantee
Support
Onsite Diagnostics
If you require onsite diagnostics or technical assistance with any of our products please contact us
Service
We recommend Duomo Gas Detection products are serviced at least annually to ensure efficacy and extend sensor life. Our qualified team of engineers are available Nationwide.
Service
What is the recommended mounting height for a CO2MC?
For wall mounting, please follow the steps on the datasheet (see tab). Cut off the power supply and place a flat head screwdriver deep inside of the hole on the
bottom of the monitor casing, then depress the clip lightly to remove the face plate from the wall plate.
Mount the back plate on the wall, 1.2 – 1.3m from the ground (please see dimensions on previous page). Connect wires to the terminal block making sure that all connections are correct and secure. After finishing the mounting of the unit, follow the steps to close the cover.
Do not mount this unit;
behind a door,
in a corner,
near a heat source, diffuser or any steam source,
in direct sunlight,
near garbage bins,
near gas ovens.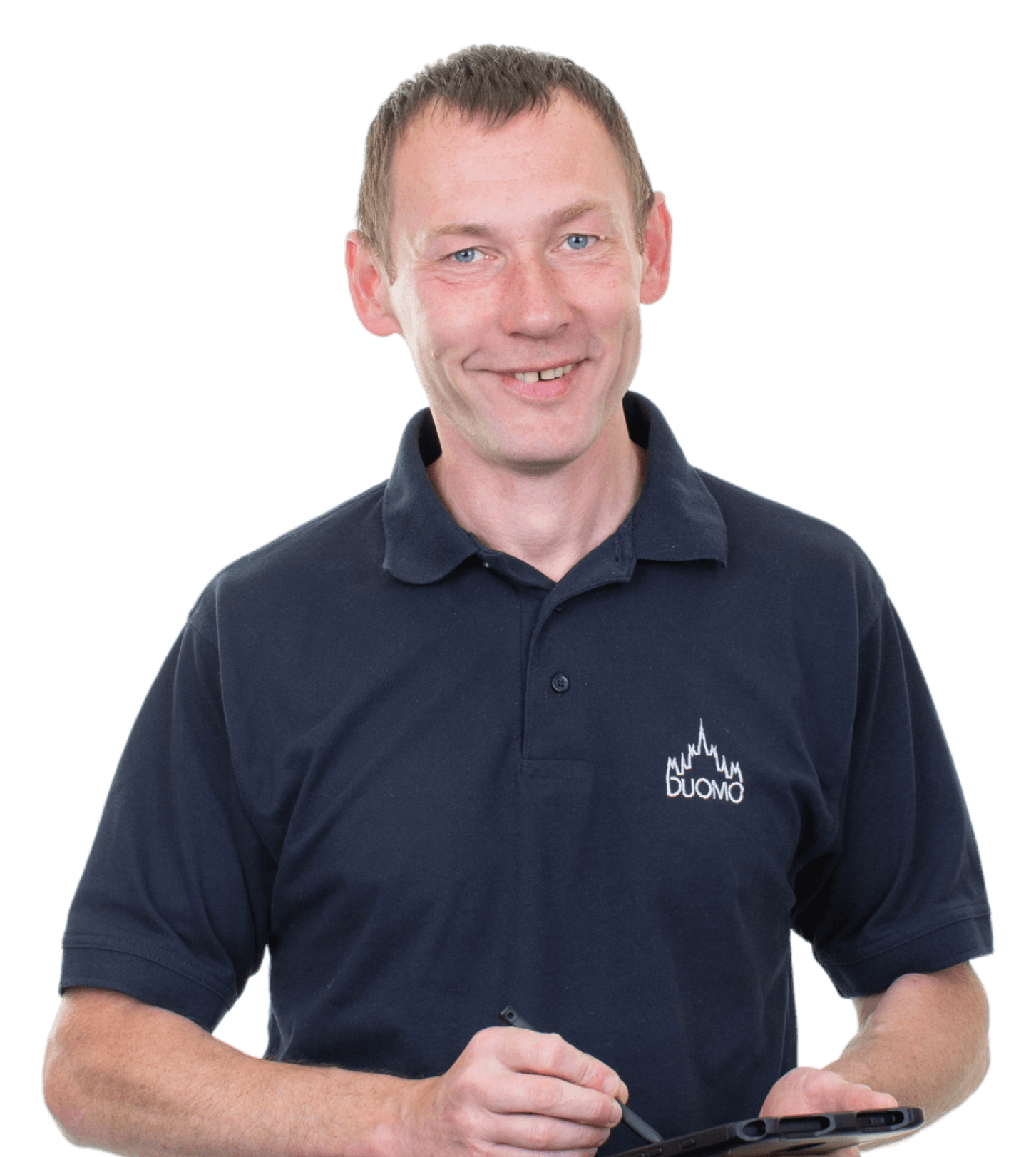 If you require technical assistance or an annual service on this product please contact us and we will be happy to help. Our qualified team of engineers are available Nationwide.